The story goes about a business man who buys a farm in the Karroo, one day he's fixing his fence and a man approaches him on horseback.
Hi, Hi, you the new owner?
Yes. Great I'm your neighbour.
Can I invite you to a Karroo braai? New farmer is lonely this sounds great! Great I'll be there, but what happens at a Karroo braai?
Fucking, dancing, kissing, fighting!
Wow sounds great, who will be there?
Just you and I!
Keen to test out my new KTM 1190 R's off-road skills, I hardly needed the excuse of visiting the ultimate Karroo Braai, the Afrika Burn www.afrikaburn.com event in the Tankwa Karroo, a unique crazy event, where adults set out into the desert and build marvellous, silly, crazy or even epic structures which they burn a few days later! Suffice it to say Sue and I realised how normal and boring we are…
Two redheads ready for action!
The Tankwa Karroo I have only seen in pictures and looks desolate, beautiful, lonely and as we found later, unforgiving…
In order to carry our own supplies (you have to be 100% self sufficient at Afrika Burn), we drove down towing the bike and stayed over at the very lekker Tankwa Tented Camp, we braaied seated on a circle of car chairs perched around a fire under the stars. And later tested Henk (the owners) lekker pub drinking swartwitpensie shooters (don't ask) listening to Koos Kombuis while a dreadlocked hippy played the didgeridoo! Henk let us sneak off at midnight to savour his Gene Pool, an amazing fire warmed Karroo jacuzzi out under the stars… you gotta do this! The Burn is 3 k's away and the Mad Max feeling was strong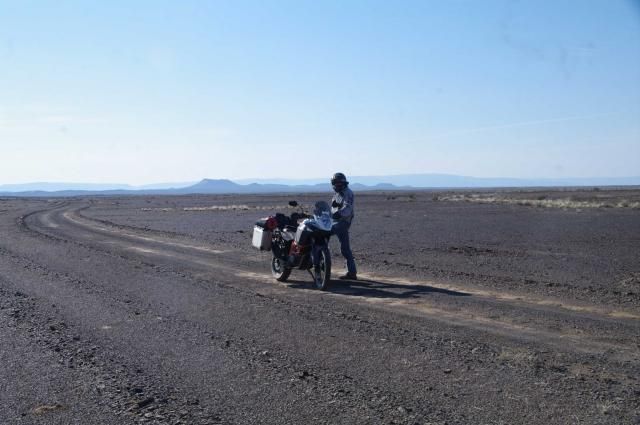 The next morning we packed the bike, tents, food, sleeping bags, the works, I wanted to be self sufficient but also to test the bike 2 up and fully loaded on rough terrain. Henk gave us some good route ideas and off we rode, wobbling a little over the first sand patch before heading into the Tankwa Karroo National Park where we spotted herds of elegant Gemsbok, Ostrich flocks racing us across the flats, Klipspringer (I think) leaping across rocky cliffs, Eagles, Namaqua Doves & lots of Springbok not to mention amazing rock strewn vistas.
Two desert roses, a prickly and soft one ..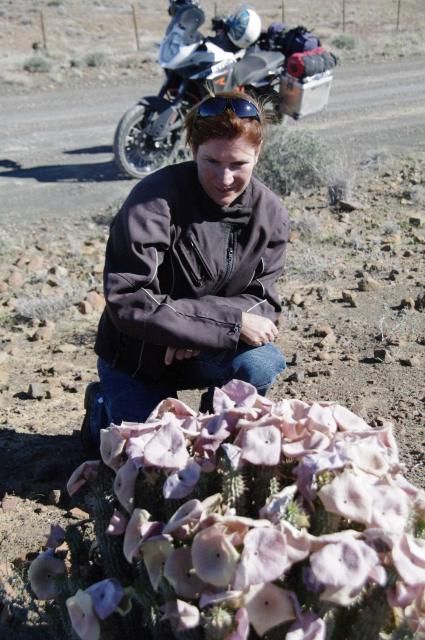 And the orange striped greater enduro… with its first puncture… KTM you might build great bikes but you know fuckall about great tyres… on the off-road orientated R.. WTF… but I'll come back to that later!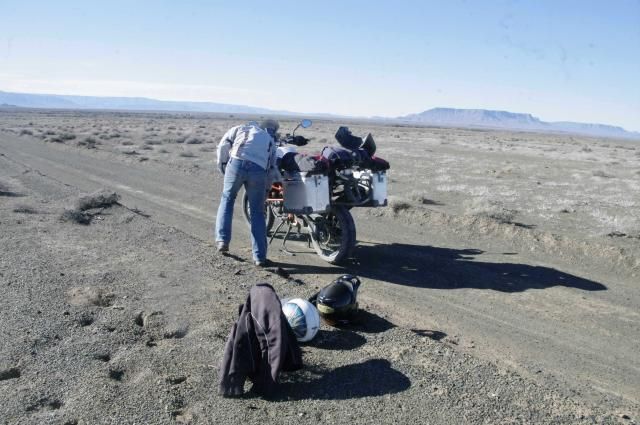 My first test was the Ouberg Pass, which is very steep in sections, washed away and rocky and I reckon will give Sani a run for its money.
I was nervous and fully expected to drop the bike but the machine purred up in 2nd and 3rd gear lots of torque despite the load and incline, nimbly following whatever track I chose. At the top I began to smile and relax, this KTM is impressive.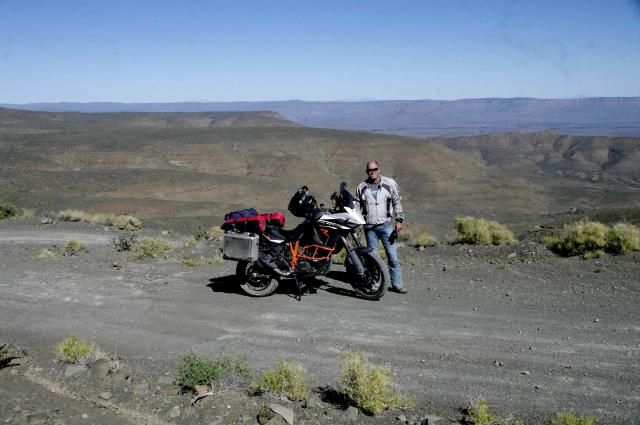 And on to Middlepos trading post and garage, where the sound of banjos is loud! Lunch in the Calvinia Hotel and then on to Ganaga Pass, jippoed by my GPS I somehow ended at the bottom going up instead of the top going down, but hey that meant we stayed the night at the top and went down again in the morning.
Lovely easy pass
and the Ganaga Lodge a great spot, gave me a strong sense of Sani Top.
And then to Afrika Burn… bright colourful people
Amazing mad max vehicles.. I mean WTF who has the time and effort to do this, but WOW..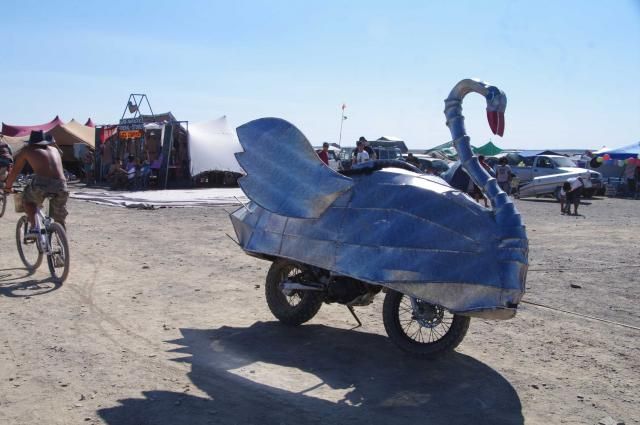 Even a Wild Dog SA forum representation
And the works of art.. waiting to be burnt! The scale and artistic merit of all of this cannot be described. There are 8000 + people and everyone is dressed up, every camp is a theme, the bicycles are camels, zebras, swans, monster skeletons…
people butterflies, naked surfers on motorised surfboards,Romans, gyrating nymphs

It is an awesome visual spectacle with no purpose, no commercial reason and no rationale.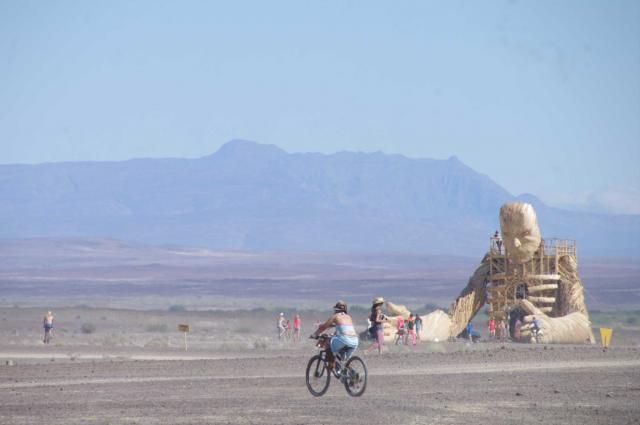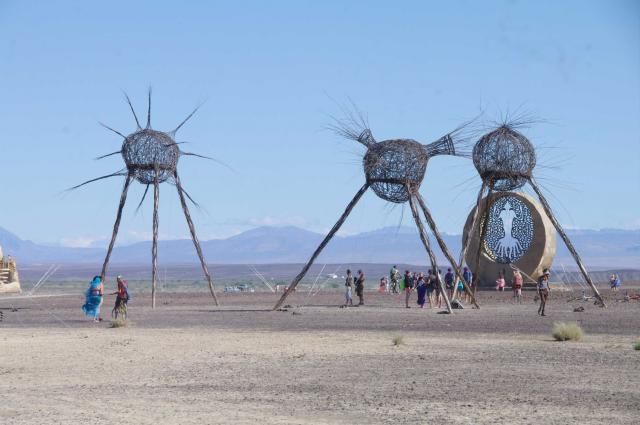 There is every cause represented, save the Rhino, save the dolphin, legalise dagga, the gay lounge, recycle, it goes on all represented not in placards and toyi toyi-ing but in some or other artistic expression! One a weird 3 D set of boxes which came into focus as a rhino, shark, elephant and Tiger.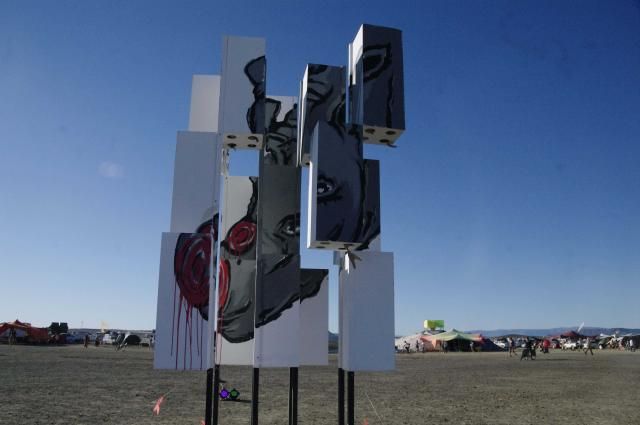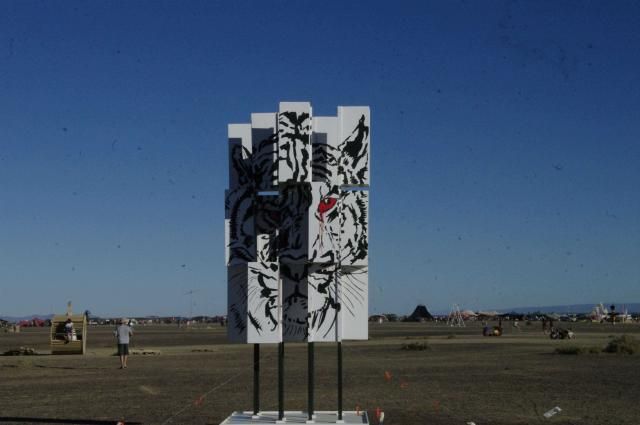 Giant grass seeds, with a women sensitive theme, liked the grass ignored the theme!
And they all burn away spectacularly at the end art into ash, sculpture into dust, the purpose about no purpose…

The concept of giving is big, as you walk you are offered wine, redemption, a joint, splash around in a water world (FFS in the middle of the desert), seven deadly gins, zebra masks for your bike, a mobile Insult Bar with curses written all over it, the more you curse and insult the bar people the more likely you are to get a drink.
But the music, oh man I am getting old but we were in the LOUD ZONE and fuck me some crazy tuneless beat filled trance, hypno, narco music pumped from three zones around us NON FUCKING STOP! I mean non fucking stop…aloud with the whoop whoop of jollers and the generators incessant buzz! So you go to the desert to bond with the earth and you fill the desert air with beats, petrol fumes and gyrations. There is so much that makes sense and so much that makes fuckall but hey at 4 am Sue and I lay in the tent and just marveled sleeplessly our ears buzzing….
But the 1190 R call was the loudest for me, this bike is a dream off-road, on sand a twist of the throttle and it floats, on rocks and ditches, it idles up fully loaded and on the gravel highways it floats like a butterfly over corrugations …

only one danger lurks, its raw frightening power, every now and then you realise how its bewitched you into going too fast! When you are not adrenalin filled you are hyperventilating in panic!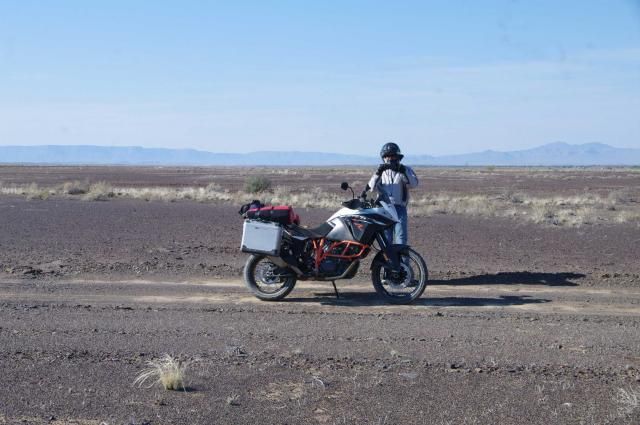 Tired of the incessant doof doof music at the Burn we decide to take a day riding…So we decided to listen to the bikes call and explore a 4×4 route to Wuppertal someone told us about…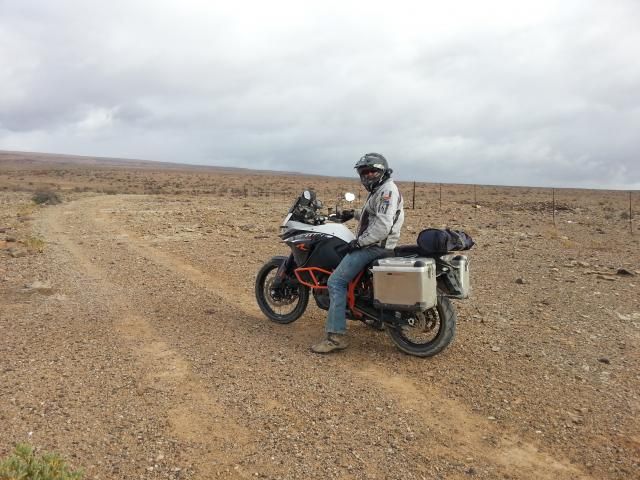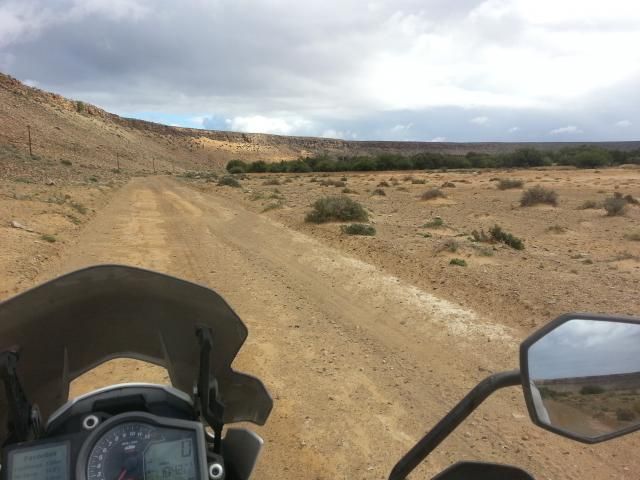 it was drizzling, we discussed turning back a few times but adventure overtook logic and off we headed..and what a great route amazing mix of sandy tracks, rocks, twee spoor
and then the road was closed… flood damage.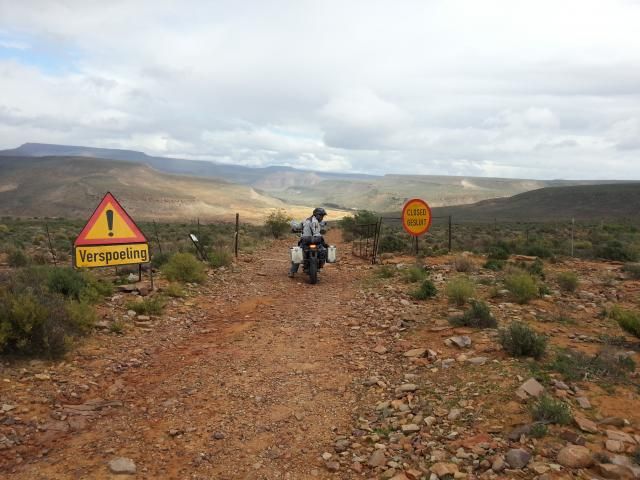 But now I was not turning back, Sue offered to walk, maybe hoped to walk but we rode on and the R just chose its path
and suddenly we were at the river! Oh shit, Now Sue really wanted to wade … I know I know Ryk Coetzee you said don't cross if its full but I did, feet down like a naff, nervously watching the level as it rode mightily close to the air vents…and then we were across.. fuck it was deep and cold…
now to Wuppertal for a hot drink and a hot meal and some petrol…..
Oh fuck Wuppertal has no hot drinks, no hot meals and Sweet Flipping no petrol and some bitch informs me slurring her RRR's "daas fokol petlol meneer ons se viggg al die mense daas geen petgol higso ons sukkel baaie!" ja except no one se'd anything to me, in fact I now have 10 km's range and the closest petrol is Clan William 75k's away… Blasting through those corners sliding the rear up that pass into Wuppertal doesn't seem so clever now GG! So an hour later having scoured the village, knocked on doors, begged bukkie drivers (who speak a Russian form of Afrikaans) we manage 5liters and off to Clan William we go.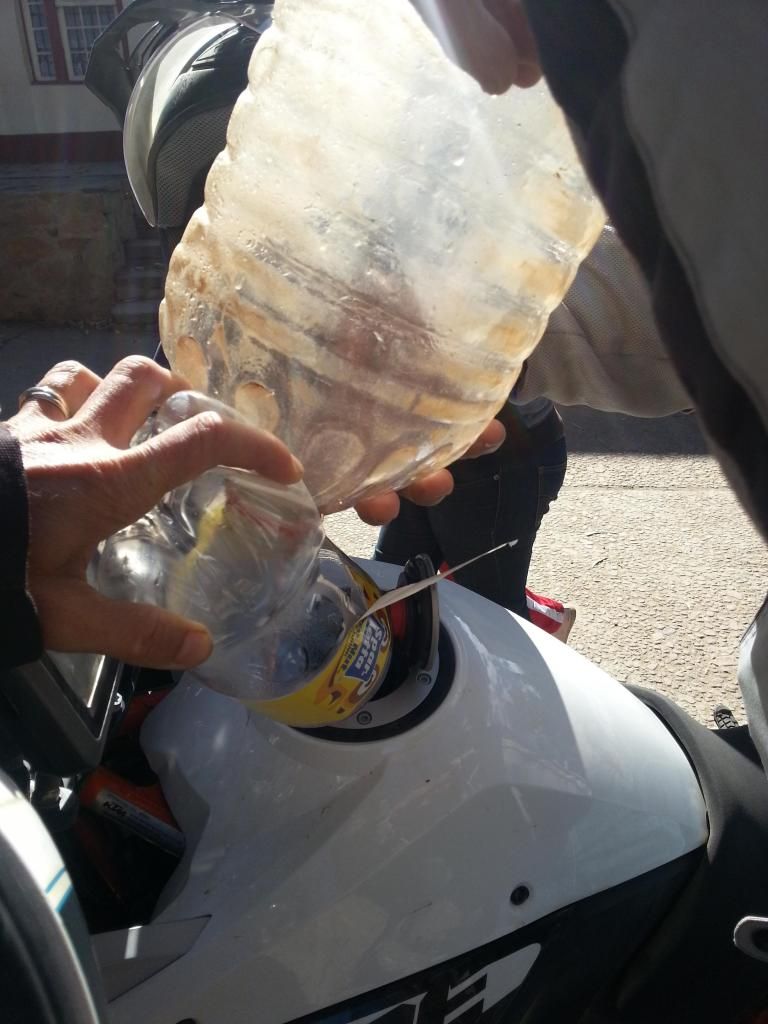 But now it's getting late and we got to get back.
Now we really wind it, long gravel highways and gentle sweeping corners are dispensed at speed heading back to the Burn, I'm loving this, the sun is setting, the bike is sublime, the views are wonderful, music is blaring and a little toooo hot I come over a slight rise and in the shadows bang over some rocks… bang sssssssssssssssssssssssssssssssss
Oh shit Puncture number 2, can I fix this one, it's a long 3 cm cut. I stuff a row of plugs in, pump, the hissing continues! Shit "Sue won't you go to the farm house over there and see if they have any puncture repair plugs, I'm out or as the sun is setting some light to work in?" Sue is gone for 20 minutes I remove the plugs and try to reinsert them .. no hope the hissing is worse and Sue says the place is deserted.
Ok we see another spot about 2k's away, Sue sets off, I decide I have a front tube as a fallback, (thank Alfie Cox for suggesting this as I left) I'm going to put it in the rear. So I set about removing the rear wheel, its dusk, I cut my hands on the chain, pinch my finger blue removing the axle. It's dark as I jump up and down on the tyre trying to break the bead. Andy (Eat My KTM) I'm going to make you Eat My Fucking Tyre I grimly swear remembering him telling me not to worry about these tissue paper tyres!! Eventually I break the bead, insert the tube, return the tyre, but its dark, I leave off the spacer, as I tighten everything there is the spacer on the ground!!! F FFFFF I remove everything again! Where is Sue? Its pitch black now, I'm worried, I have to get this done and find her! I finish, pump the tyre hard, thank G it works. I ride into the dark looking for Sue. Sue had not found anyone, houses are deserted, coming back she's lost so she takes a picture of the sign to remind herself where she was and follows the fence line. She's afraid she's lost, will jackals attack her, tripping over bushes and rocks, she grits her teeth and walks on!
We find each other, drawn to the only two lights in the whole of the Karroo! It's a relief, but we are still 70 km's from home, will the tube do it? I ride slowly, maybe 40 km/h praying. Around a corner and an object runs into the road, I brake, I hit it but slowly, it's an Aardvark! WOW a once in a lifetime sighting, and its wandering aimlessly in my lights blinded! I switch off my lights it wonders off, we feel privileged!
20kms on, a flapping sound!! NO NO NO the tube has gone! I look at the GPS, it looks like 4 km's to the main Ceres Calvinia road, where we can flag down a car! We push the bike off the road. Grab the gps, bag of snacks (from our picnic plan) and I had inadvertently left the tent on the back too lazy to unstrap it, we take this. And we walk… 4kms by gps light is a way, and with relief get to the junction, "drive 10km's to next intersection" barks the GPS…. NOOOOOO! Now it's 8.30 pm, dark as sin, deserted, no cell phone reception and no chance that even in the morning someone will come past this road. And what's more in the morning our friends Adi & Lou are getting married at the Afrika Burn mass wedding, we can't miss it, we can't!
So we walk, let me tell you it's a long flipping walk, 14km's in the dark by GPS light! But it's also beautiful and wild and there's no techno trance babble music ! There is a certain romance, the stars, the silence, the odd jackal howl, the babe walking with me. We arrive at the right intersection 2 and a half hours later but there is no traffic, so we wander along the road a bit, and find a farm. YAY we shout hello, we wander around, nothing but goats, tractors and sheep! Deserted, a little eerie actually! So we build a fire, we cuddle next to the flames, share a lone beer we find in our snack pack, pile some unused sacks on the floor of the shed and erect our tent on this, and fall asleep cold, tired and as dusty as tutankamen!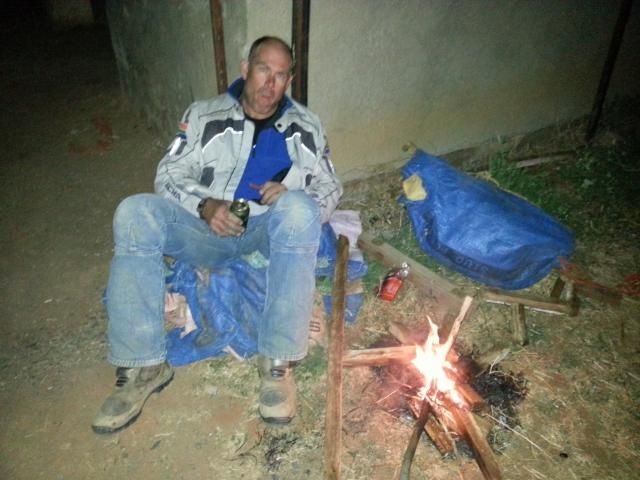 In the morning we walk another few K's find a farmer who phones another farmer, who phones another and that one phones Henk of Tankwa Tented Camp, each farmer now phones the other and the other and we get the return message, no problem Henk is sending a rescue party in a bukkie! What amazing generosity of spirit, thanks Henk!
And we made the wedding …..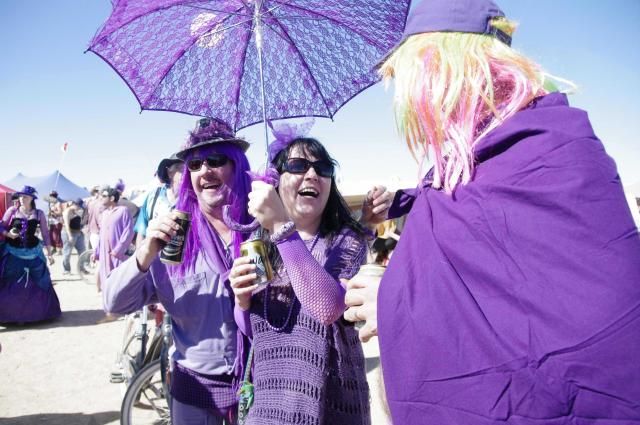 And all I can say about that bike and its off-road ability is WOW, light, responsive, tracks perfectly on rocks and ruts, and blasts down gravel tracks, slides graciously around corners …. And shares with me a strong dislike for shitty tyres!
And that was my Karroo Braai!
Category: South Africa, TRIP REPORTS