Its Sue's 40th birthday and for putting up with her for so long i thought a joint present sounded great, a trip to Barcelona, hire a motorbike and ride through the Pyrenees for 6 days! After lots of searching on the internet and emails I choose to do a self guided tour with IMTBike Tours, their passion for riding and their route is contagious. This means they arrange accommodation, give me a route between points (which of course we can choose to ignore from time to time) and an almost brand new GS 1200 bike. We land in the afternoon in Barcelona and the first impression is 36 degree heat and thousands and thousands of scooters & motorbikes screaming around.
Everything is closed for siesta, I love the idea of work from 9-12, siesta till 4 and work till 8. The sun only sets at 9.30 so there are fantastic long hot afternoons. We go for a walk and discover the sidewalk cafes on every street, tapas (snacks / starters) and cava sangria! The laid pack party atmosphere is infectious…
But we came here to ride and we meet Martin of IMTBike who continues the passion that I found on the internet as he describes the route. While sharing the route for each day he claims "and this is my FAVOURITE road ever…" I snigger later saying ja ja good marketing, every day his favorite??? … little did I realise I would be sounding like him fairly soon!!!
We struggle to fit our bags in the pannier brackets on the BM, I'm used to larger adventure panniers, but a little repacking and pushing and shoving and we are ready. We weave slowly through the Barcelona traffic, scooters rocketing past us in the morning traffic. I am concentrating on staying on the right, which surprisingly comes easily and soon I am jostling in the line of bikes at the front of the robots lined up F1 style. We leave the town and surprisingly find the first hills, the prePyrenees within about half an hour of leaving town. These hills are beautiful and full of flowers, with sharp twisting turns climbing ever higher into the mountains. We stop early for a coffee at a ski village.
Branching off the route given to us we head for Andorra a tiny independent state in the mountains between France and Spain with INCREDIBLE roads climbing up and down huge mountains, the valleys are filled with ski villages and the mountains ski slopes,
Its terribly hot in the valleys (37 degrees) and cool in the mountains, we use the heat as an excuse to stop regularly for a beer.. at one mountain top stop we find the road full of these huge horses, cart horses we agree only to find later they are bred for meat…. that got my horse loving wife gagging!
Day 2 dawns and we start climbing within 10 minutes of leaving Seu de Urgell the little town where we stayed. The route winds through a national park climbing among incredible forests, sweeping dream motorbike roads
Often we find little tracks branching off and exlore, sometimes they relink with our route but most often they end at a little village, where we have a drink and then zoom down the twisties again. This amazing track is just wide enough for one car cuts through a valley ending at a logging station in the forest.
We stop at the town of Sort for a while, Sort means luck and by chance (or Luck) we happen to stop next to the lottery outlet. This is the most successful lottery in Spain we learn when passersby ask us to take photos of them. "Buy a ticket" they say "you will be lucky"… we just feel lucky to be here and ride on.
From Sort we climb up and down to Vielha which is famous for its ski slopes, F*** the slopes look at that road, I shoot down, find another branching off and shoot up the otherside, my boots scrape the ground, these corners are insane…
A gravel road tempts me, its a service road up to a ski station,
After surprising a few hikers the road becomes really steep and this bike does not feel as comfortable on the gravel as mine at home so we turn back.
Following the valley for a while we climb up and out of Spain into France along one of the Tour De France climbs. The roads are daubed with the names of famous TDF riders, I look but never see Lance's name passing under our wheels,
We cross the Bielsa tunnel, about 5 km's long and head for our accommodation back in Spain. "Leave the windows open and listen to the waterfalls" impassioned Martin. WTF he did not tell us about this… the road heads up a valley and ends at our hotel surrounded by a canyon with a multitude of spectacular waterfalls falling in a 180 degree arc around us! INCREDIBLE, there can not be a more beautiful setting for a hotel, this is our view from our bedroom!
We are lulled to sleep by water cascading around us, our tummies full from ordering the "local menu" which is plate upon plate of starters of various delicious types, followed by a local main and pudding and lots of great Spanish wine! It is not often that what is offered by a tour operator is so undersold and so overwhelming….
Day 3 and today we head into France but first stopping in a local tourist centre desperately trying to find an adapter for the bike charger. Well prepared I arrived with a cigarette lighter charger for my camera, phone, headsets, head camera etc. WTF the BM has a hella charging point!.. and try and find one in Spain or France…bad design fault! Bet BMW sell an adaptor for the price of an airticket to Spain! Today we cross 5 Tour de France peaks in France including Tourmelet Pass, we whizz past the cyclists :ricky: our pegs scraping the tarmac as we whip from one corner into the next over and over and over and time for another beer or sangria!
Words and pictures cannot adequately describe the views, the sublime twisty roads, the hot baking sun, each corner opens up a new vista of forest, cliffs, mountain flowers and roads that seem to hang off the mountains.
We end at the ski resort of Formigal the first time back in Spain today. All I can say that was my FAVOURITE day again. And man do I respect the Tour De France riders, those are some serious climbs and descents!
Day 4 is a rest day which means we stay at the same hotel again and we have a route planned through the valleys of the ancient Kingdoms of Aragon and Navarra. It is sooo tempting but equally we are lodged under these amazing mountains and so instead we do a 7 hour hike into the mountains. And what a hike..
A three hour climb takes us to a spectacular lake in the mountains surrounded by snowy peaks and inhabitted by a lone pub… HowTF did they get the beer there I don't know. At the bottom we were told this pub has the best beer in the world and after a vertical 3 hour climb there is no doubt!
Day 5 and we are reluctantly heading back but our route is still special. First the medieval town of Ainsa… basically Spains answer to Lesedi and Shakaland cultural villages ;D
Narrow windy streets, a church that plays Gregorian chants and lights the candles for a coin, a moat and more curios than the Rosebank market, but quanit and interesting. The road follows a valley for a while, long sloping curves inviting high speeds. I resist until a set of superbikes overtakes me and tempts me to chase them. After reaching double the speed limit and watching at least one superbike fade away I am content to slack off having given the locals some South African gees!
We enter the incredible Congosto De Ventamillo Gorge, the road perched like a goat track on the side of a river.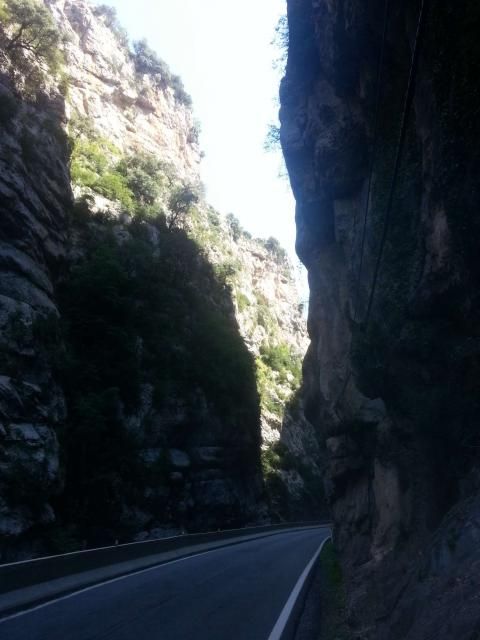 And then we climb again, up into the mountains, paragliders skimming the treetops around us. Finding little offshoot roads into the mountains, we cannot resist exloring them, they all end but after amazing snaking forest roads.
And what goes up must come down, flick flacking down, each bend inspiring a gasp of "look at that view.."
Now we leave the mountains and enter the wheat lands of this region. The roads still twist and turn along the ridges as if to leave the space between for wheat, our pace is fast and the golden wheat flashes past.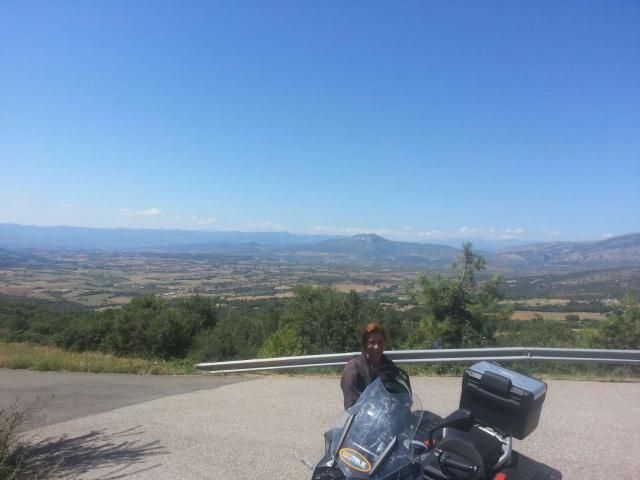 And we approach our modest digs for the night, Cardona a real 9th century castle!
This is the reception!!! And the entrance hall…
Today is Sue's 40th birthday and the guys at IMTbike have spoilt us yet again. Its not often you can stay in a castle, sip on champagne and look out your window at this view!!!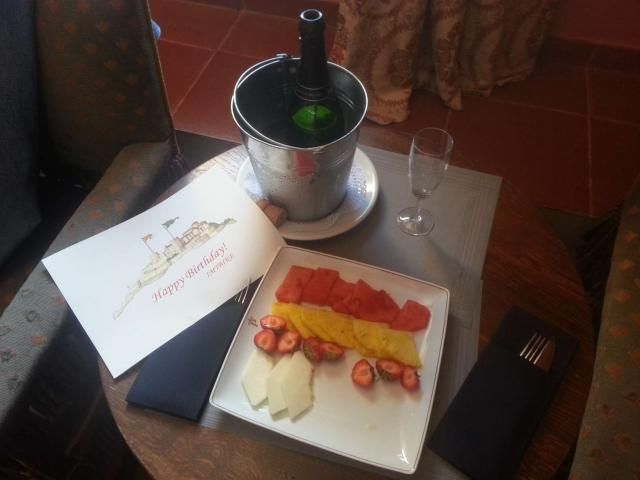 In the grand banquet hall we feast like the Princes and Princess's of Cordona!
Day 6 the last day and our route heads back towards Barcelona, but in the distance I can see some misty blue mountains and a twisty tale on my map, so we head the opposite way back to Solsona & Tuxen. We find roads bedecked with painted names of Contador and others, the 2009 Tour de France passed here, and once again we cling to the sides of mountains and gaze from high twisty roads down on Spain.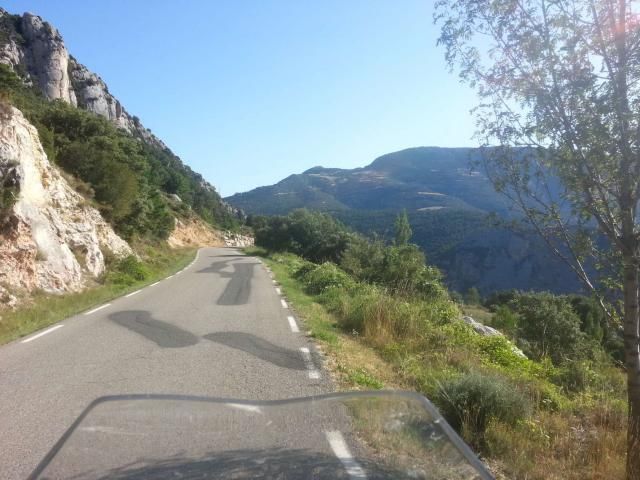 Reluctantly we turn from these amazing mountain roads that never end, and we head down past the Sierra de Montserrat mountains that look like stubby giant fingers sticking out of nowhere, the land all around them flat and featureless.
A last gape and twisty and we hit the motorway into Barcelona, down the famous main road the Diagonal. The mountain roads we felt we owned have given way to the hectic buzz and frenzy of scooters. We head to the beach for a drink a little absurd in our riding gear among the topless sunbathers of all shape, size and skin colour, from the brown to the red to the bulging bellies and wrinkled geriatrics.
We laugh at the poor lifeguard gazing out over a sea with so few waves that a wind blown ripple across the water must engender a mild panic.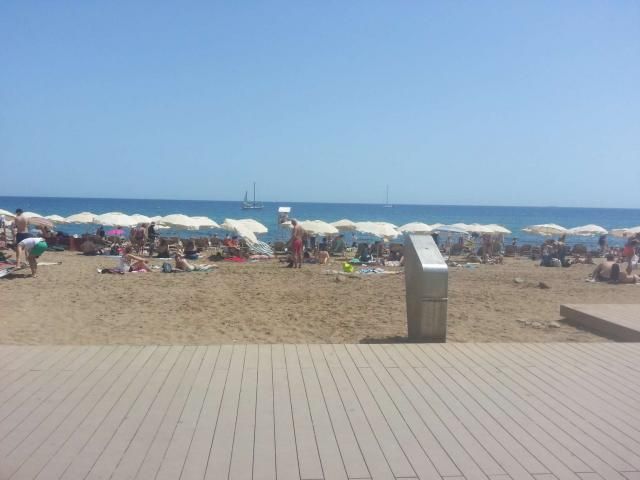 We reluctantly hand our bike back to the guys at IMTBike knowing its a sure sign our trip is drawing to a close and spend a day being tourists in an amazing city filled with palaces and fortress's, markets and sidewalk cafes, sangria and statues.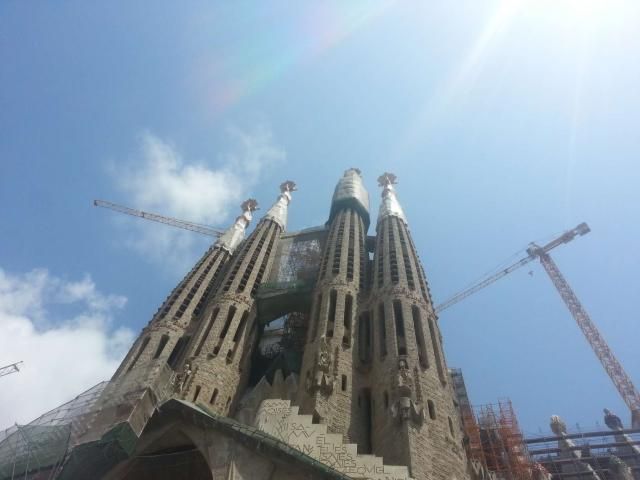 I could live in Barcelona and I could ride the Pyrenees over and over again, we are going back…..
Category: TRIP REPORTS